Dear T.C. Boyle,
Greetings from students in the English Department of the University of Siegen, Germany! This past semester we took part in an experimental seminar called "Contemporary American Fiction: Alice Walker and T.C. Boyle," and wanted to share some of our thoughts with you - as well as some 'mind maps', poems, and cartoons, all inspired by "Tortilla Curtain"!
"Hybridity" was the catch-word of our seminar - not only did we discover hybridity galore in a single work or canon, but also we found it reflected in our reading strategy when that strategy involved intertextuality or comparison/contrast. Let us give you a few examples from our poster-sized 'mind maps,' which we can merely summarize for you:
Language: The mixture of English and Spanish (with touches of French, Latin, and German) in your novel only seemed at first glance to create a hybrid multi-lingual text; actually the language underscored the vast gulf between the worlds of the upper middle-class Americans and the Mexican 'wetbacks,' as epitomized in the two, equally derogatory graffito: BEANERS DIE and PINCE PUTA. Two students created a 'graffiti poem' to illustrate the results of rascism in language and attitude:
Rage

Alienation

Cruelty

Intolerance

Suffering

Misery
Bojana Lekic and Andrea Ludwig
Narrative: The intertwining stories of Delaney and Candido created a mongrel unit, although the contrasts between the two characters were deliberately schematic. Just think about the differences in their abodes: mountain / ravine; modern house / primitive camp; high fence / exposure; over-abundant food/scavenged remnants. As always in your novels, the animals embody the same contrasts, strengths, and weaknesses as the humans. Don't Sandra Palme's cartoons capture these contrasts well?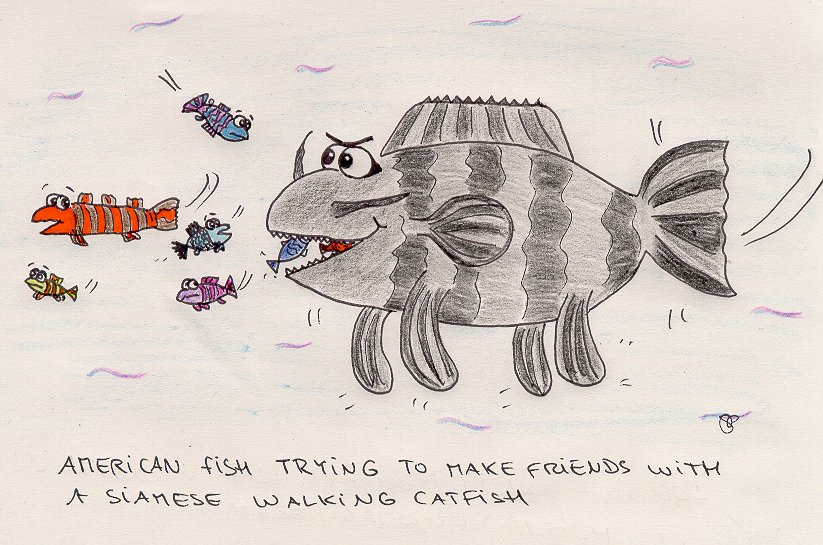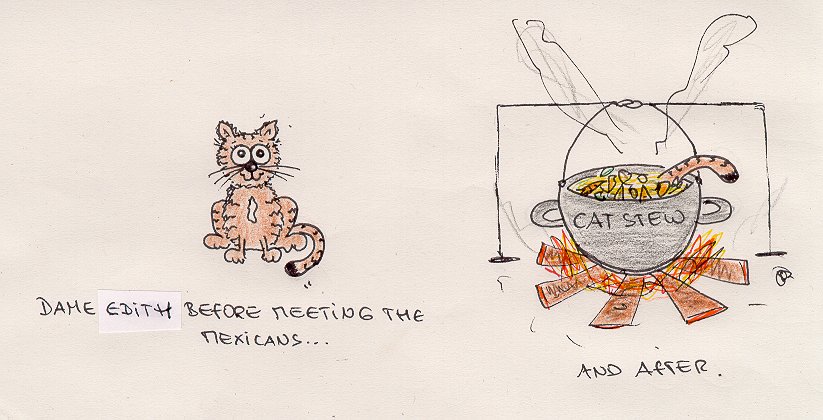 Theme: America the nation of rich promise and América the abused young woman merge in the motif of the American Dream with its allure and disillusionment. One of our students saw the links among the characters in their inability to SEE the reasons for the clash between those who partake of the Dream and those who seek it; here is a poem she wrote:
"Human Blindness"
Delaney: not exactly the wisest one;
Candido: not exactly the brightest one;
Kyra: conceited and blasé
América: a victim

Worlds collide, blind to the causes,
Victims all, in the long run:
América and America
Annemarie Goez
In a haiku, Sandra stresses the oppositions in the novel, and in her rhymed poem she points out the moment of possible reconcilation at the end of Tortilla Curtain:
Arroya Blanco
Hot California summer
Mexicans shiver
Arroyo Blanco, summer heat
two lives intertwining as opposites meet;
the American dream's for Americans only,
mental fences around it keep Mexicans lonely;
fight for survival makes dreams go up in smoke -
when masks fall, gentle hands are ready to choke
or push any strangers...right out of the way,
keep a feeling of helpfulness or compassion at bay
But they all have in common a desire to make
their lives worth living; thus to take
a hand reaching out for a fellow man
should make hearts smile - and prejudice ban!
Sandra Palme
You are perhaps in suspense about the way we produced a 'hybrid reading' between you and Alice Walker! Two brief examples:
In Walker's short story "Everyday Use," the narrator and her younger daughter Maggie use the handcrafted items (quilts, wooden churn) which the college-educated older daughter Dee/Wangero merely wants to collect as artifacts of black culture. In your wonderfully satirical story "Filthy with Things" depicting Marsha's compulsion to acquire possessions, which smother her and her husband in American excess, there is a glimpse of an Ethiopian family which does not even have clothes to wear. The attitude of the pragmatic and perceptive narrator of "Everyday Use" provides an alternative between those extremes of waste and poverty.
"Specifying" or 'outrageous insult' is generally considered to be a feature of African American oral culture; in Walker's Color Purple Celie is finally able to confront verbally her oppressive husband Mister - after a bout of masterful specifying, she triumphs with her famous sentence: "I'm pore, I'm black, I may be ugly and can't cook...But I'm here." In contrast, Candido and Delaney never vent their prejudices toward each other directly face-to-face (after all, which language could they use??); their prejudices emerge in inner monologues, bad conscience, and hate acts...
We liked to see hybridity as a way of breaking down or crossing borders - and since modern literature in general and your works in particular are full of border crossers of all types (just think of Hiro in East is East, for example), we composed this poem for you:
"Border Crossers"
(for T.C. Boyle, from a German seminar)
illegal aliens
pooh!
explorers
outlaws
diplomats
really?
hybrids
mulattos
mutts
huh?
jet-setters
pilgrims
ghosts
heavens!
post-modernists
deconstructionists
multi-culturalists
yeah!
smugglers
scavengers
coyotes
yikes...
novelists
wow!
With multi-cultural regards from some coyotes in Germany:
Kocra Lossina Assoua, Priscille Dizière, Guel Ebcioglu, Britta Frank, Annemarie Goez, Sandra Henrich, Bojana Lekic, Andreas Lenz, Friederike Linsel, Andrea Ludwig, Michaela Mahlich, Dierk Matzke, Daniela Neuser, Sandra Palme, Annette Pölking, Sonja Schneider, Ibrahim Thiam, Sascha Trauth, Anke Wallbott; Instructor: Cathy Waegner
P.S. We've ordered A Friend of the Earth and can hardly wait to see what surprises your new book has in store for us!